Toyota and Honda see US sales dip in disaster-hit 2011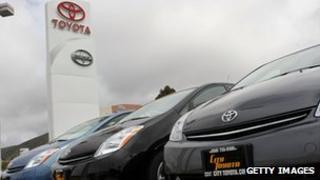 Toyota and Honda saw sales in the US fall sharply in 2011 as production was hit by natural disasters in Japan and Thailand, figures show.
Both carmakers saw sales fall by about 7% during the year compared with 2010.
Their fortunes contrasted sharply with rival Nissan, which saw a strong rise in sales. South Korea's Hyundai also posted much-improved figures.
Overall car sales in the US in 2011 rose by 10% on the previous year, to 12.8 million - representing a 22% rose from 2009.
Among US carmakers, Chrysler saw the biggest gains, with sales up 26% on the year. General Motors (GM) saw a 13% rise, while Ford was up 11%.
However, total US sales were well below the levels seen during the early and mid-2000s, when annual car sales regularly hit 16-17 million units.
Following the strong rise in 2011, some analysts said sales were unlikely to climb as sharply this year.
"With relatively weak employment trends, sluggish real-income growth and consumer confidence that is improving but not strong by any stretch of the imagination, it doesn't feel to me like a traditional cyclical recovery," said Guggenheim Securities analyst Matthew Stover.
US carmaker GM was more optimistic, however, predicting sales would rise by a million in 2012 to between 13.5 and 14 million vehicles.
Sales boost
Japanese carmakers have had a tough year in 2011, with both the March earthquake and tsunami, and floods in Thailand affecting production.
The strong yen - which increases the price of exported cars - also put pressure on sales overseas.
Last month, Toyota said it planned to increase production by 20% and sales by a quarter this year as it tries to recover lost ground.
The company is due to lose its crown as the world's biggest carmaker to the US's General Motors.
European carmaker Volkswagen enjoyed a 26% rise in sales in the US last year.
"They have the potential to increase market share with all of the problems in Japan," said Rolf Kelly, a fund manager at the Thornburg International Value fund.
South Korean carmakers Hyundai and Kia also reported sales rises of 20% and 36% respectively.
The two sister companies have capitalised on their Japanese rivals' difficulties, Mr Kelly reasons.
"They can sell the Hyundai Sonata for the same price as a Toyota Camry and make a much greater profit on it because of the currency issues."