Mortgage rationing becomes worse, Bank of England warns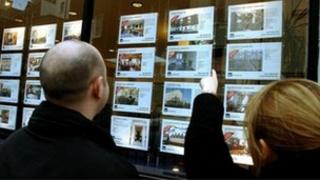 Home buyers will find it even harder to obtain a mortgage in the coming months, the Bank of England says.
Its quarterly survey of lending activity shows that lenders are going to be even fussier about prospective customers.
"Lenders expected a tightening of credit scoring criteria for granting new secured loans to households," the Bank said.
It said lenders were worried about the poor economy and falling house prices.
"Factors such as the cost and availability of funds, the economic outlook and expectations for house prices were all expected to pull down on credit availability," the Bank reported, in its survey of credit conditions.
"Lenders expected the proportion of total loan applications being approved to fall over the coming quarter with some lenders commenting that they had revised down expectations for households' disposable incomes and hence the affordability of taking out new secured loans," the Bank added.
Banks and building societies told the Bank that this stringency had put off many potential house buyers from applying for mortgages.
Any increase in lending in the next few months, the lenders said, was likely to be concentrated on those borrowers who could afford to put down a large deposit.
Worse to come?
Rigorous mortgage rationing has been in force in the UK since 2007 and the onset of the international banking crisis.
Not only did the crisis dry up the supply of funds for lenders to make available to home buyers, it also provoked a fall in house prices, undermining the security of home loans already made.
As a result, lenders have moved to demanding much larger deposits from would-be borrowers, typically amounting to between 20% and 25% of a home's value.
The knock-on effect has been a huge fall in house sales compared to pre-crisis levels, and a continued stagnation of the property market.
This now appears likely to become worse before it gets better.
On Wednesday, separate figures from the Bank of England showed that the number of new home loans approved but not yet lent - a reliable indicator of near-term trends - has barely changed in the past few months, and is still running at less than half their pre-crisis levels.
Rising company defaults
In the latest credit conditions survey, lenders reported a continued improvement in the rate at which mortgage borrowers and unsecured borrowers, such as those with credit cards, have been defaulting on their loans.
The Bank reported that lenders expected this trend to improve in the coming months.
But the picture was different for corporate borrowers.
Lenders said they did not expect much change in their ability to lend to companies in the first quarter of 2012.
However, the demand for loans specifically from small companies had fallen sharply in the past three months and was expected to drop again.
And defaults on loans already made to medium-sized and large firms had risen in the past three months, for the first time in two years.
"Lenders commented that this trend reflected a combination of a deterioration of economic conditions and some companies having used up their room for remedial action," the Bank of England said.