Pace of US service sector growth quickens in December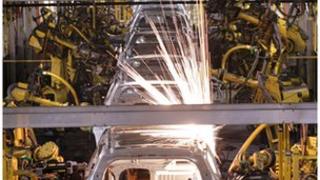 The pace of the US service sector's growth picked up in December, according to a new report.
The Institute for Supply Management (ISM) said its services index rose to 52.6 last month from 52 in November. A reading above 50 indicates expansion.
The ISM survey of US services covers industries ranging from utilities and retailing, to healthcare and finance.
It comes on the same day a survey showed numbers of new private sector jobs in the US surged in December.
The ADP National Employment Report's December job tally rose by 325,000 - compared to 204,000 in November.
The figure, released on Thursday, was almost double the 178,000 estimated by economists.
It comes a day before an official government report is expected to show that the US economy added 150,000 public and private sector jobs last month.
Wayne Kaufman, chief market analyst at John Thomas Financial in New York, said the ADP report was "stunning".
He said: "This is another data point that shows our economy is healing.
"It fits in well with improvements we've seen in consumer sentiment, and obviously that's because there are more people getting paychecks, which is making everyone happier."