Public sector pensions offer rejected by Unite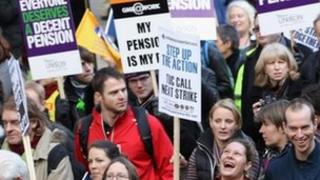 The Unite union has rejected the government's latest offer on public sector pensions for NHS workers and warned strikes may continue during the Olympic games in London.
The union's health sector committee called on ministers to enter "meaningful" negotiations on pensions.
The union, which has 100,000 members in the NHS, will meet again on 11 January to decide what action to take next.
The government made its updated 'final' offer for NHS workers in December.
Olympics
A number of unions are meeting in the coming days to consider the proposed deal.
"The question of continued industrial action through the winter and the spring and into the summer towards the Olympics is obviously a possibility," said Len McCluskey, general secretary of Unite, in an interview with the BBC.
"The idea of the world coming to London in the summer and we're all supposed to pretend that everything is hunky dory and we're all in it together is a nonsense," he added.
"If these attacks are still being levelled on trade unions, on workers and on communities then I suspect there'll be lots of demonstrations."
Union concerns
In the NHS proposal, from April 2015 most staff will transfer from their current pension scheme to a new career average pension plan.
Most will also have to pay higher contributions, which are being phased in between 2012 and 2015.
In the new scheme, the accrual rate - the rate at which the value of a pension builds up - will be 1/54th of salary each year, revalued in line with CPI plus 1.5%.
When proposals for NHS staff were updated in December, the deal on offer meant:
530,000 staff earning between £15,000 and £26,557 would be spared any rise in pension contributions in 2012
Those staff less than 10 years away from retirement, as of 1 April 2012, will be excluded from the move to a new career average scheme
Higher-earning employees would be expected to pay more
Staff in areas transferred out of the public sector would retain their right to stay in the pension scheme
The government has also pledged to consult on the impact of changes on staff in the emergency services
However, Unite's health sector national industrial committee unanimously rejected the offer.
It said that its concerns included the prospect of nurses and paramedics doing heavy lifting into their late 60s, as well as career average pensions affecting staff who took career breaks to raise children.
"Our NHS executive unanimously rejects the government's pernicious attempts to make hard working and dedicated NHS staff pay more, work longer and get less when they retire," said Mr McCluskey.
"Unite believes it is important to continue a campaign to maintain a fair and equitable system of public sector pensions and calls on ministers to enter into real, genuine and meaningful negotiations on the future of NHS pensions and public sector pensions."
The move follows a decision by the British Medical Association (BMA) to survey around 130,000 doctors and medical students on the government's final offer.
The BMA said it would seek the views of its members on whether the proposed deal was acceptable, and if not, what action they would be prepared to take. The BMA said a formal ballot on industrial action - its first for more than 30 years - could follow.
A spokesman for the Department of Health said: "The unions have committed to suspend any industrial action while final details are resolved and members are consulted.
"We hope that BMA and its members will recognise that the government has made an offer which is fair and sustainable in what is a very difficult economic climate and support the agreement reached. Further discussions are being held to work on the remaining details."