Swiss National Bank head says he has not broken law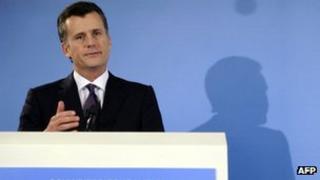 The chairman of the Swiss National Bank (SNB), Philipp Hildebrand, has denied any "legal breaches" resulting from his wife's currency trades.
He said he would not resign as a result of the claims.
Kashya Hildebrand bought $504,000 (£323,024) in August, three weeks before the bank intervened to reduce the value of the Swiss franc. She later sold the dollars to buy a property.
It is the first time the SNB chairman has spoken about the issue.
Integrity
Speaking to journalists, Mr Hildebrand said more transparency was needed in future.
"I understand that some of the transactions now discussed and the way in which they have been portrayed and interpreted in the media and in public could bring my integrity into doubt," he said.
"The most important lesson, which I can take from the events is: a further improvement of transparency in every aspect that concerns financial transactions of members of the board of the Swiss National Bank is essential."
On Wednesday, the SNB published details of an internal investigation by auditors PricewaterhouseCoopers which, it said, cleared the bank head and his family of breaking any rules.
Alongside the investigation the SNB also published its own internal rules which had not previously been made public.
Mr Hildebrand said his behaviour had been both legally and morally appropriate.
Investigation
"I have at all times acted not just according to the rules but also correctly," Mr Hildebrand told journalists.
The conference comes after state prosecutors in Switzerland announced an investigation into a 39-year old man suspected of leaking information about the Mr Hildebrand and his family from a private bank.
Mr Hildebrand said he currently had no intention of stepping down as a result of the criticism.
"So long as I have the confidence of the government and the bank council, stepping down is not an issue for me."