PwC fined £1.4m in JP Morgan auditing case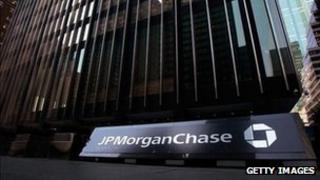 PricewaterhouseCoopers (PwC) has been fined £1.4m by the Accountancy and Actuarial Discipline Board (AADB) over its conduct when auditing the accounts of JP Morgan bank.
JP Morgan itself was fined £33.3m by the Financial Services Authority (FSA) in 2010 for failing to protect clients' money by lumping it in with its own.
The PwC fine is for failing to spot this practice by the bank.
Instead, PwC told the FSA JP Morgan had followed the rules.
The fine related to reports compiled by the accountancy firm between December 2002 and 2008.
Client risk
"PwC accepted that it did not carry out its professional work in relation to these reports with due skill, care and diligence and with proper regard for the applicable technical and professional standards expected of it," said a statement from the AADB.
As a result, PwC told the FSA that JP Morgan had followed its client money rules.
Instead, client money was being held with the bank's own funds.
It meant that had the bank become insolvent, the client money would have been at risk.
The tribunal found that PwC's "misconduct" was "very serious", but reduced the fine from £2m due to the firm's co-operation.