House prices fell by 1.3% in 2011, Halifax says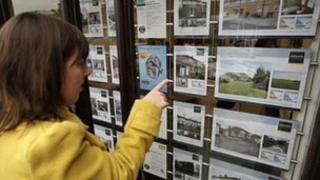 House prices across the UK fell by an average of 1.3% in 2011, mortgage lender Halifax says.
A drop of 0.9% in December took the average house price down to £160,063.
Halifax said the property market had been surprisingly resilient in the face of falling incomes and a deteriorating economy.
The lender predicted that prices would be stable over the course of 2012 but warned the outlook was "uncertain".
"If the UK can avoid recession, we expect broad stability in house prices in 2012," said Halifax housing economist Martin Ellis.
"There is, however, considerable uncertainty regarding the prospects for the UK economy, which will, to a large extent, depend on how events in the eurozone unfold.
"In addition, the extent to which households choose to reduce their debts will also affect growth," Mr Ellis added.
Nationwide building society reported at the end of December that house prices had risen last year, but by just 1%.
The UK property market was stagnant in 2011, as lenders continued to ration their lending to prospective home buyers and rising unemployment deterred some potential borrowers.
As a result, sales in the 11 months to November were running at a level 3% lower than in the same period in 2010, according to official figures.
With the Council of Mortgage Lenders (CML) lenders forecasting a further drop in lending this year, the chances are that sales will drop further and that prices may be pushed lower too.
On Thursday, the Bank of England warned that lenders were preparing to become even more stringent with their lending criteria during the first few months of 2012.
Lenders told the Bank they were worried that falling house prices might undermine the security of the loans they had made, and were concerned about the worsening state of the economy and its impact on the ability of borrowers to repay.
The interactive content on this page requires JavaScript