Housing market: Rics sees no pick up in sight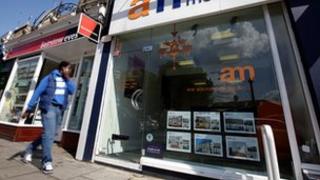 There is no sign of the UK property market picking up in the coming months, the Royal Institution of Chartered Surveyors (Rics) has said.
Its latest monthly survey says some sellers are still asking too much for their properties, while some potential buyers cannot raise a mortgage.
As a result, surveyors expect the level of sales to stay unchanged in the next three months.
In December prices fell across the country, except in London, Rics said.
"Continuing problems with the economy and the ongoing instability in the eurozone seem to be weighing heavily on the UK housing market and expectations for the coming months are fairly subdued," said Ian Perry, Rics spokesman.
"With sales expectations remaining flat, it is important that vendors are realistic in their pricing if they wish the sale to go through in good time.
"Looking ahead, along with surveyors' flat predictions for transaction levels, price expectations remain low," Mr Perry added.
Stagnation
The number of homes sold in the UK during 2011 may turn out to be the lowest since modern records began in 1978.
There is no sign of a let up in the mortgage rationing which has prevented hundreds of thousands of potential buyers, including many first-time buyers, from buying a home in the past few years.
Last week, the Bank of England warned that banks and other lenders appeared likely to restrict their mortgage lending even more in the coming few months.
Its survey of "credit conditions" found that lenders were worried about the deteriorating state of the economy, and also by falling house prices undermining the security of the loans they had made.
Meanwhile opinion among most property market experts and commentators is that prices across most of the UK will fall further in 2012, possibly by as much as 10%.