Council staff reject government's latest pension plan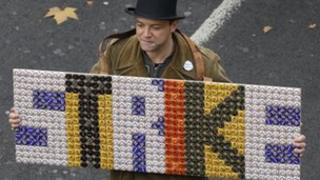 Another group of public sector workers has rejected the government's plans to change their pension scheme.
Leaders of the Unite trade union have rejected changes to the local government pension scheme.
A revised offer was outlined in December by Danny Alexander, Chief Secretary to the Treasury.
It means that despite making concessions, the government is still facing significant opposition to its plans to cut its pension costs.
The Unite general secretary, Len McCluskey, said his members no longer trusted Eric Pickles, Secretary of State for Communities and Local Government, who has been leading the coalition's negotiations over the local government scheme.
"Our senior representatives believe they have no choice but to reject the 'principles document' after Eric Pickles claimed the unions had made commitments which have not been fully discussed," Mr McCluskey said.
"There now needs to be genuine discussions without arbitrary deadlines."
Long term plan
Last year the government embarked on negotiations to implement a two-stage plan to knock billions of pounds off the long term cost of providing pensions for staff in most parts of the public sector.
That plan covers staff employed in the civil service, NHS, local government and education.
The strategy is a centre-piece of the coalition's attempt to rein in the government's spending deficit.
The first stage of the plan is to raise many members' contributions substantially, by an average of 3.1 percentage points, in stages between April this year and April 2015.
Then, in the second stage, most serving staff will be moved from their current schemes into new, and less generous, career average ones.
One of the key features is that as well as paying in more, most staff will have to work longer, as the normal pension age in each scheme will rise steadily from 65, in line with the intended raising of the state pension age.
However lower paid staff will be exempt from paying higher contributions.
And those public sector staff who, on 1 April 2012, are within 10 years of their normal retirement age will be able to stay in their present schemes.
Opposition continues
Unison, by far the largest union in local government and the NHS, will announce its stance on Tuesday.
Unite members in the NHS have already rejected the government's latest plans for their pension scheme; the biggest civil service union the PCS has all along rejected proposed changes to the civil service pension scheme; and the two biggest teaching unions, the NUT and NASUWT, last week refused to endorse the most recent pension proposals for the teachers' pension scheme.
The initial version of the public sector pension changes led to a huge national one-day strike of trade union members last November.