Ford's chief poses succession dilemma for the company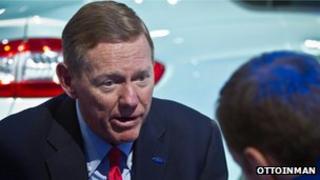 For once the rock star comparison doesn't seem quite so absurd.
For the latest product launch, at this year's Detroit motor show, Ford CEO Alan Mulally strode into the arena in the usual blazing spotlights, billowing dry ice and blaring music.
It's a familiar walk for the CEOs of modern carmakers, and not all of them have necessarily warranted such triumphal entrances.
Mr Mulally might.
More than most company bosses, he's here touting a vehicle - the new Ford Fusion - that is identified with his particular leadership, and his plan for the company.
That plan, set in motion when Mr Mulally took over in 2006 has seen Ford utterly transformed.
Then it was arguably in the worst position of the three major US carmakers.
But while the other two went into bankruptcy and were bailed out by the government, Ford has managed to turn itself around without such drastic intervention.
Instead, it borrowed a staggering amount of money and invested it in new products - products that are now selling well.
Not only that, within the last six weeks it has also restarted paying dividends to its shareholders.
Turnaround plan
So how much of that is down to Alan Mulally?
Well, most analysts and industry watchers seem to agree that the essential ingredient in the Ford turnaround IS the CEO.
"Mulally was key to Ford's turnaround," says UBS automotive analyst Colin Langan.
"He put the company in the right direction by improving management transparency and accountability. Mulally also created the 'One Ford' plan which helps keep Ford's management team focused."
Like most good ideas, Mulally's One Ford plan sounds simple enough.
In essence it is the idea that instead of having different units of a global company making different products with little or no reference to each other, Ford should operate as a properly global corporation.
The Fusion unveiled in Detroit is a prime example of this.
Not only will it be the same car around the world, but all versions of it, be they powered by petrol or hybrid engines or by electricity, will be made on the same assembly lines.
As Mulally says, "That means we can make them in the quantities that consumers really want. But we can also make them most affordably."
Any colour
Albeit to a less restrictive degree, it sounds like a vision of making and selling cars that's descended from Henry Ford himself.
He notoriously wrote: "Any customer can have a car painted any colour that he wants, so long as it is black."
Mulally might be offering a little more customer choice than that, but the benefits to the business of making one product work around the world, are similar.
It's the magic of economies of scale.
If Henry Ford's company had to buy only one colour of paint, presumably Alan Mulally's has to buy only one type of Fusion seat.
Revolution
But however simple, and however in step with the company's history, Mulally's execution of the One Ford plan was evidently nothing short of a revolution for the failing, money-losing firm he took over.
Bryce Hoffman is the author of the forthcoming book American Icon: Alan Mulally and the Fight to save Ford Motor Company. He thinks Mulally will be viewed as Ford's saviour.
"The Ford company wasn't saved only by Alan Mulally, but if he wasn't there it wouldn't have been saved," is how Hoffman puts it.
"Many of the programmes that saved Ford were already in place but Ford's entrenched culture was ensuring none of them could succeed, and Alan Mulally was able to succeed where others had not, by smashing that culture."
Which is why the rock star entrances don't seem quite as laughably out of place for this business executive as they might for others.
Smashing entrenched cultures, forging new ones and making a pile of money - all laudable ambitions for music, as well as business stars.
'Final test'
All of which poses one notable problem for Ford - who will take over when Alan Mulally, who is now 66, retires?
Understandably perhaps, it's not a subject the company itself cares to discuss in public.
Chairman Bill Ford has been widely reported as saying he'd be happy for Mulally to stay in the job for as long as he wants.
That rather serves to emphasise the problem as much as it points to the solution.
Mulally himself affably deflects the suggestion that he's dangerously hard to replace.
"That's nice of you to say, but we have a very talented team and we've all worked together around this compelling vision of Ford," he says.
In some ways of course, whenever it happens, how well the top job is passed on will be the ultimate challenge for Mulally's transformation of Ford.
Stephen Miles, vice chairman of the executive recruitment firm Heidrick & Struggles, says any great CEO, by definition, must be judged by the success of the person who follows them.
"When you describe a hugely successful CEO, part of that success is developing more than one viable successor," he says.
Bryce Hoffman thinks the only candidates to take over from Mulally are indeed being developed within Ford. "I would be stunned if they don't promote from within," he says.
"In some ways finding Mulally's successor from within is the final test of his success."