Concern for 700 engineering jobs at WJ Harte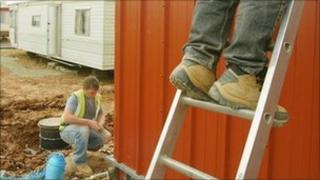 Unions have claimed that 700 jobs at the Bothwell-based engineering firm WJ Harte are under threat.
The company, which was founded in 1974, carries out engineering work for housebuilders.
The construction union UCATT said it had taken calls from a number of workers at the plant who had been sent home, and said it believed the firm was close to calling in administrators.
The company refused to comment but said it would issue a statement later.
Harry Frew, regional secretary of UCATT, said: "It's extremely disappointing to hear that WJ Harte is facing such difficulties, threatening hundreds of jobs.
"We hope that a buyer can be found and jobs preserved. UCATT is seeking a meeting with the administrators to establish what the future holds for our members."
Mr Frew added: "The impact of these potential job losses across central Scotland will be a major blow to workers and their families.
"It is imperative that everything is done to safeguard these valuable construction jobs."