Private sector pension deficit record increases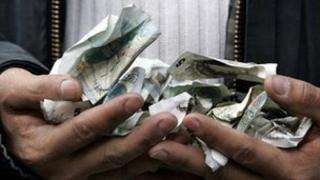 The collective deficit of the UK's private sector final-salary pension schemes has risen to another record level.
The deficit stood at £222bn at the end of November, but grew to £255bn by the end of the year, the Pension Protection Fund (PPF) said.
A year earlier, the 6,533 schemes had recorded a surplus of £21.7bn.
The monthly figures are volatile, but the rising cost of paying for pensions was the key factor behind the deficit.
There were 5,473 schemes in deficit at the end of December, and 1,060 schemes in surplus.
"This index shows that pension funds are falling even further into the red, and businesses will be under more pressure to fill in the deficits," said Joanne Segars, chief executive of the National Association of Pension Funds.
"It is a stark and painful reflection of the burdens on final salary pensions in the private sector.
"These figures do not reflect the long-term health of pension funds, which work over a long timeframe and are able to manage the effects of market volatility."