Nissan-Renault alliance in sales record in tough year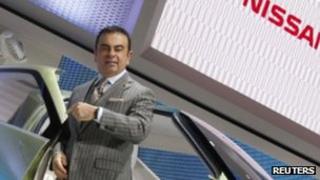 The Renault-Nissan partnership's global vehicle sales increased 10% last year to a record high.
Deliveries by the two car companies and their Russian partner AvtoVaz rose to 8.03 million vehicles, up from 7.28 million in 2010.
Renault-Nissan chief executive Carlos Ghosn announced the results at the Detroit motor show.
The rise has been attributed to a rebound in the US car market and strong demand from China.
Disaster year
Japanese car makers suffered major disruptions to production in 2011 due to the earthquake and tsunami in March and the floods in Thailand.
Despite this, Nissan's deliveries jumped to 4.67 million cars and light trucks.
Nissan's factories and production lines were not as badly hit as rivals Toyota and Honda.
Nissan was able get production back up to 80% of its capacity by mid-May and said it had recovered fully by September.
Mr Ghosn told reporters in Detroit that passenger car sales role 8.9% in the US and about 10% in China.