Fannie Mae chief Michael Williams to stand down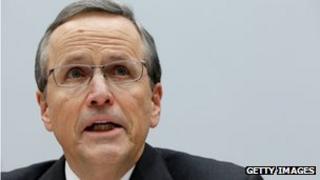 Michael Williams, the chief executive of US mortgage giant Fannie Mae, will step down once a successor has been found, the company has announced.
Mr Williams was put in charge of Fannie Mae in 2009 after the firm had been rescued by the US government at the height of the financial crisis.
In a statement, Mr Williams said he had decided the time was right to leave.
Chairman Philip Laskawy said Fannie was a better company "as a result of Mike's leadership".
The company gave no indication as to when a successor would be named.
Mr Williams first joined Fannie Mae in 1991.
His decision to step aside means the government now needs to find leaders for both of the two largest US housing finance companies. Freddie Mac chief executive Charles Haldeman announced plans to step down in October.
Both Mr Williams and Mr Haldeman came under intense pressure from Congress to rein in compensation after it was disclosed last year that the firms paid out $12.79m (£8.27m) in bonuses for 10 executives.