UK trade gap widens in November, says ONS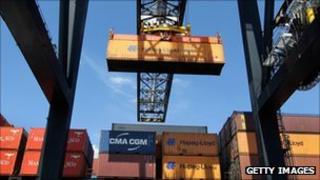 The UK's trade deficit widened by more than expected in November as imports increased and exports fell, figures from the Office for National Statistics (ONS) have shown.
The deficit on the trade in goods and services was £2.6bn in November compared with £1.9bn in October.
The widening gap came mostly from a drop in the value of exports of goods.
The deficit on the trade in goods grew to £8.6bn in November, greater than the £7.9bn recorded in October.
City analysts had expected a trade gap of no more than £8.3bn.
Exports of goods fell 1.5% to £25.7bn, while imports rose 1.1% to £34.4bn, boosted by big purchases of chemicals and crude oil.
The UK's export performance was hit by a £300m fall in sales of silver to countries outside the EU.
"Trade is unlikely to contribute strongly to UK economic growth in 2012, which looks set to be a challenging year," said Chris Williamson, chief economist at financial information services firm Markit.
"Signs of improved demand from countries such as the US and China are likely to be countered by weak demand in the eurozone."