Thorntons' Christmas sales miss expectations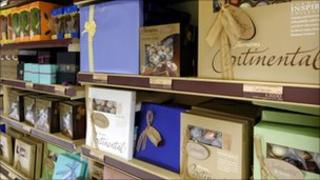 Chocolate maker Thorntons has said its sales over the key Christmas trading period were below expectations.
Like-for-like sales at its own stores were down 4.2% in the 14 weeks to 7 January.
It said profitability had also been hit by the "high level of promotional activity across the market".
Thorntons runs a total of 574 wholly-owned and franchised stores in the UK, but said in June it planned to close 180 outlets in the next three years.
Jonathan Hart, Thorntons' chief executive, said that shoppers had remained "very cost-conscious" over the Christmas trading period and had been "purchasing selectively".
Total sales at Thorntons' own stores were down 6.8% and were down 17.5% at its franchise stores.
Sales across the Thorntons group as a whole - including Thorntons Direct and sales at supermarkets - were up 0.6% at £83.7m.
Mr Hart added that the firm expected "continued weakness in consumer sentiment throughout 2012".
"This reaffirms our strategy to rebalance the business, create a smaller retail estate, revitalise our brand and most importantly restore profitability over the next three years," he said.
Last month, Thorntons issued a profit warning, predicting it would break even in the 53 weeks to 30 June.