JP Morgan reports lower fourth-quarter profit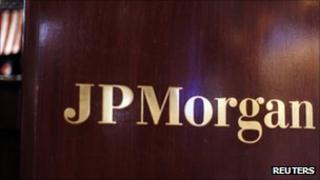 JP Morgan has reported lower fourth-quarter profits, hit by weaker trading at its investment banking division, triggered by the eurozone debt crisis.
The Wall Street bank made a net profit of $3.7bn (£2.4bn) in the last three months of 2011, down 23% on the $4.8bn it made in the same period a year ago.
For the whole of 2011, however, profit rose 9% to a record $18.98bn, compared with $17.37bn in 2010.
The results were in line with analysts' expectations.
However, revenues for the fourth quarter came in below forecasts, falling 18% on a year ago to $21.47bn.
Mike Holland, chairman of investment firm Holland & Co in New York, said the earnings showed "how well JP Morgan can be managed in one of the roughest times".
"They were lagging in revenues, but they were able to manage through that," he commented.
"Investment banking was predictably lousy. Trading was predictably lousy. But they were able to pull off a meet-or-beat quarter."
Shares in JP Morgan fell sharply at the open of trading on Friday after the results were announced, but recovered to end the day down 2.5%.
'Disappointing quarter'
Net revenue at its investment bank fell 30% on the fourth quarter in 2010, while net profit more than halved, "primarily reflecting lower market volumes".
Chief executive Jamie Dimon said that while the firm had performed reasonably throughout the year, given the environment, "the return for the fourth quarter was modestly disappointing".
Total compensation at the bank, which includes salaries, bonuses and benefits, rose 3% in 2011 to $29bn.
That equates to more than $111,000 for each of the bank's 260,000 staff.
But the poorer performance in the last three months was reflected in the compensation for that quarter, falling 9% on the previous quarter and 4% on the fourth quarter of 2010 to $6.3bn.
Compensation at its investment bank totalled $8.88bn for the year, a drop of 9%.
Fourth-quarter compensation at the investment bank came in at $1.17bn, a fall of about 36% on both the previous quarter and the fourth quarter a year earlier.