Man Utd sponsor Aon moves headquarters to London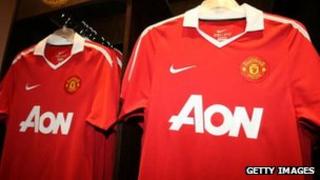 US insurance broker Aon has said it plans to move its corporate headquarters from Chicago to London.
"The move provides greater access to emerging markets and takes better advantage of the strategic proximity to Lloyd's," the firm said.
The move, subject to shareholder approval, is expected to happen in the second quarter. Chicago will remain the main office for the Americas.
Aon is the main shirt sponsor for Manchester United football club.
At the same time, Aon will change its legal jurisdiction of incorporation from Delaware - a state in the US where many companies are based for disclosure purposes - to England.
The UK government reacted positively to the news.
"Aon's decision is a strong endorsement of London and the UK," said Mark Hoban, the financial secretary to the Treasury.
"The UK continues to be one of the leading global centres for insurance."
The move will not cause job losses in either Chicago or the US, the broker said.
Aon plans to add more than 1,000 positions across its US operations in 2012, based on continued growth and investment opportunities.
"The decisions we make today will help drive our global strategy and strengthen our growth opportunities in the years to come," said Aon chief executive Greg Case.