Mortgage lending picked up in November, CML says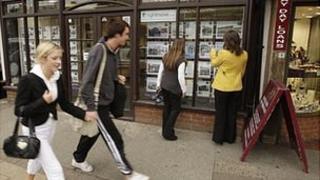 Mortgage lending picked up slightly towards the end of last year, mortgage lenders have reported.
The Council of Mortgage Lenders (CML) said the number of loans made to home buyers rose by 4% in November, to 47,000.
That number was also 3% higher than in November the year before.
Despite that improvement, sales are still running at levels less than half the number achieved before the onset of the banking crisis in 2007.
The CML's director general Paul Smee said: "A rise in mortgage lending towards the end of 2011 is a welcome indicator for the industry considering confidence has been weak due to fragile economies both at home and in the eurozone."
"We should expect a further increase in first-time buyer activity over the next few months as they push through their purchases to take advantage of the stamp duty concession before it ends in March."
In November, the government announced that a temporary exemption from stamp duty would come to an end on 24 March 2012.
The exemption - put in place by the Labour government in March 2010 - meant that first-time buyers were free from the 1% stamp duty on homes costing less than £250,000.