Stanley Gibbons boosted by new ventures in 2011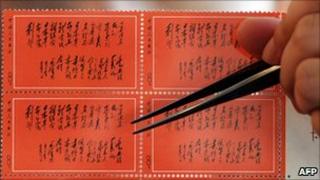 Stamp collecting specialist Stanley Gibbons has said its trade last year was boosted by the opening of a Hong Kong office, and also by a new website.
A move to larger corporate and investment sales office in Jersey, Channel Islands also helped trade.
Chairman Martin Bralsford said sales performance for 2011 "was exceptional and profit growth was strong".
Internet sales for the second half of the year were up 67% year-on-year, the firm said.
The company had said last year that it expected China to become a growth market for several years to come, and has now reported that its new Hong Kong outlet is a "substantial new revenue stream".
It has also expanded its business to include rare coins, commemorative medals and military medals.
Stanley Gibbons said "we are witnessing an increasing international interest in the ownership of tangible assets, such as collectibles, as a means of storing and growing wealth".
The company was founded in 1856 and the stamp business received a Royal Warrant in 1914.