Metro postpones Kaufhof sale amid falling sales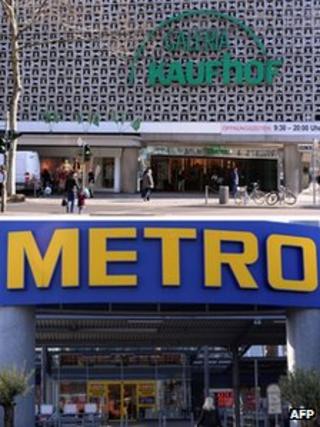 German retailing giant Metro has suspended plans to sell its Kaufhof department stores and reported "disappointing" Christmas sales.
The group said troubled financial markets meant now was not the best time to agree any sale.
It also posted sales of 19.5bn euros in the final three months of 2011, a fall of 1.3% compared with a year earlier. Sales for the full year were down 0.8%.
It said the eurozone debt crisis was in part to blame for the fall.
"The past year was strongly impaired by extraordinary developments," said Metro's chief executive Olaf Koch.
"In particular, the sovereign debt crisis, high unemployment rates and austerity programmes in many European countries have resulted in buying restraint among the customers."
The firm had been discussing the sale of Kaufhof with a number of potential buyers.
However, financial market turmoil led the retailer to believe it could achieve a better price for the business at a later date.
"The present situation on the capital markets does not offer suitable conditions for such an important transaction," said Mr Koch.