England rugby signs deal with Lucozade-maker GSK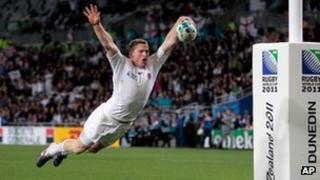 English rugby's governing body, the Rugby Football Union (RFU), has signed a four year sponsorship deal with GlaxoSmithKline (GSK).
GSK makes products such as Lucozade sport drink and protein powder Maximuscle, which will now be used by the main England rugby squads.
The product deal covers the senior, youth, sevens and women's squads.
The deal comes after a period of executive turmoil at the RFU and a poor showing by England at the World Cup.
Record revenues
The team attracted as much publicity for its off-field exploits as for their activities on the playing field.
It culminated in the departure of team manager Martin Johnson.
Meanwhile, a battle between different factions saw first chief executive John Steele, and then acting chief executive Martyn Thomas, leave the RFU.
In November, the RFU announced the appointment of Ian Ritchie as its new chief executive.
Despite all the upheaval, the RFU's annual report in November, for the business year ending on 30 June, showed record group revenues, up by £24.3m from £112m to £136.3m.
That was largely driven by a match programme that saw Twickenham host four internationals and three Six Nations matches.
Grass roots
The GSK deal - whose value has not been revealed - is the first major sponsorship agreement since Sophie Goldschmidt left the NBA to become the RFU's chief commercial officer.
She said the "partnership will benefit all levels of the RFU's elite game... this reinforces our commitment to excellence across all levels".
It comes ahead of the RBS Six Nations tournament, which begins on 4 February when England play Scotland.
As the agreement runs to 2016 it will take in the period when England hosts the Rugby World Cup in 2015.
As part of the deal, GSK is also committed to extending its support for rugby in England to the grass roots as well,