Freedom to move: Older professionals in new life abroad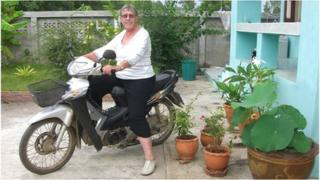 Sixty-two-year-old Ulrich Roehren has waited most of his working life to fulfil one plan: "I always dreamed of working abroad but I never got the chance, even though I actually had a job in Brazil after I finished my studies. I then met my wife and she told me I should stay in Germany with her. So I did."
But seven years ago that changed. In 2005, Ulrich got the chance to work in Thailand. This time his wife did not try to stop him.
The 2004 tsunami meant his skills were in high demand at that time.
"As an urban planning expert, I was needed there. I ended up working in Phuket, which had been badly damaged."
Mr Roehren is one of a number of older workers using their skills in other countries.
Sixty-six-year old Bob Campbell is another who changed country for work in later life.
It has led to some striking moments: "One time I was relaxing after work by walking in Ethiopia's Semien mountains. I was with a guide and a scout. We made a fire and various people started to appear out of the darkness. It ended up with them singing and dancing round the bonfire - all carrying their Kalashnikov rifles."
He retired at the age of 60 from his job as head of a department of educational studies. Like Ulrich Roehren, a late move overseas was part of his life plan: "My intention was always to share my experiences and expertise overseas. Part of my job had been advising graduates about development work, it was something I always suggested others should do so it wasn't particularly a bold move for me."
Ageing migration
Brookfield Global Relocation Services (Brookfield GRS), which designs and manages global relocations, says its figures show the average age of the migrating professional has been rising.
Its 2011 Global Relocation Trends Survey report on the ages of international assignees showed 9% were 20 to 29 years old, down from 13% in 2010. The percentage for the 30-39 age group also fell, to 32% from 33%, while the 40-49 and 50-59 age groups both rose, from 35% to 37% and from 16% to 19% respectively. The over-60s age group however was static, with just 3% of employees in that bracket.
But data for older workers moving overseas for work can be hard to gather. The Organisation for Economic Co-operation and Development (OECD) has some figures on the ages of people emigrating, but many countries don't measure incomers who stay for a relatively short period of time - something that applies more often to older workers, where much of the work is of a short term and voluntary nature.
Calm and confident
Germany's Senior Expert Service (SES) has been placing older workers in projects around the world since 1983, anything from teaching how to make brakes to teaching children chemistry.
A non-profit making organisation, it helps small- and medium-sized companies to help themselves, mainly in developing countries, and now has 10,000 such people - from small craftspeople to professors - on its books, with an average age of 68.
Many are engaged in development work, where typically assignees are paid expenses rather than a salary.
Their depth of knowledge can be invaluable, says Bettina Hartmann, director of SES: "The main advantage is their experience, that brings a calmness and a confidence."
But, she says, it is not just a steady temperament that they have developed that is so useful. The things they have learned simply from living longer are of great use too: "Some have had struggles in their life. Some of them remember harder times in Germany themselves and that helps them to walk in others' shoes.
"They may also remember machines from the past - the 1940s even - that are still in use in developing countries. They've worked with them, they know how to turn the screw."
Despite this, Ms Hartmann says ageism remains a problem: "We have lots of workers over 70 years old who we would like to employ and who would like to carry on working, but the clients often prefer younger ones, which is a pity."
No more dressage
SES is one of 22 organisations across Europe that are linked to the Confederation of European Senior Expert Services (CESES) all of which match experienced people with projects to help raise standards of living in developing economies by providing voluntary assistance to small- and medium-size enterprises and institutions.
Another organisation that links skills with projects - although not explicitly for older people with skills - is the English-registered Voluntary Services Overseas (VSO).
Meg Mansfield was a 66-year old supply teacher when she signed up with VSO for a placement on the Thai-Burmese border.
She went because she felt she was no longer young enough to keep up with the other key activity in her life: "I had been keeping a horse for dressage. I thought: 'I can't do dressage any more, I am too old.' I stopped and sold my horse and I was adrift really. I didn't really need to work anymore because I was a lot better off."
Bettina Hartmann from SES says that is a typical of older workers moving abroad: "What is common to all of them - whether they are first-timers or not - is that they didn't want to stay home. They've always been successful, always been busy, they know they have so much to pass on."
Ginny Garcia is another example of this. A paediatrician from the Philippines, at the age of 61 she decided to go to Sierra Leone in Africa to run a clinic. She last worked abroad 30 years ago in the killing fields of Cambodia and, remembering the desperate need of people in the aftermath of war, had the time and means to go and help again.
She says being older makes it easier to survive in some ways: "The advantage is you don't need money. You have your house, car and money in the bank, retirement income, and your children are grown up."
Mike Gorski of Brookfield GRS says companies are waking up to the fact there is value in older workers: "There's an interest in bringing them back for temporary and part-time assignment roles - they're happy to have a job and are typically very loyal.
"It is also often the case that they have a very strong people-skill set, as they come from a time when those skills were more polished than they are often today."
That is something that applies to Mark Driscoll, chief people officer for professional services firm PriceWaterhouseCoopers. His took his first overseas posting, from the US to India, at the age of 50.
"I'm not sure my friends think I'm crazy, but a number of them aren't even willing to visit me here. I'm from a farming background in Oklahoma.
"Quite frankly it is a huge opportunity professionally. I've done lots of different things, changing job every three to four years. You begin to culminate those experiences. The company needs someone who can interact."
Mr Driscoll is at the lower age range of the older generation moving for work, in his case accompanied by a professional salary - and says one of the downsides of leaving the US is not being on hand for his parents, who are almost 80.
The move though has brought them into close contact via a modern-world icon - the iPad.
Mark says: "Their iPad means I talk to them more than I did in the States - and they can see me on it."
'Subtle approach'
There are other downsides for moving as an older person, says Ginny Garcia.
"You get more lonely when you're older, more sensitive and sentimental. When you're young you are more aggressive. But a good thing is I have the company of 25-year old interns. They fill up my loneliness and I can share my philosophy with them," she laughs.
Sharing is the right way to make friends, according to SES's Bettina Hartmann, and helps you to survive.
"It is no good having someone come and tell you in developing countries: 'You must do this and this.' You need someone with a more subtle approach."
If that isn't applied, says Ulrich Roehren, things can get quite difficult: "You have to be flexible and adapt a little bit to their culture. In Asia, people are very polite and subtle. I worked with one expert who wanted to tell people directly what was right and what was wrong.
"After one week they did not talk to him anymore. He sat all day in the office and no-one spoke to him."
There are greater freedoms to be enjoyed away from work.
Meg Mansfield in Thailand decided that if she couldn't have a horse, she'd have a motorbike: "It was considered very dangerous - most of the people VSO lose on assignment are to road accidents - and like most people who come from England, I did find the drivers crazy.
"I thought: I'm here and I need to drive. It was a bit dodgy really!"
Mark Driscoll says his out-of-hours life has changed radically: "The Maldives is in striking distance. And I'm planning to see Mount Everest. OK, I'm only going to go to climb Base One, but at least I can look at the rest of it."