German investor confidence jumps to seven-month high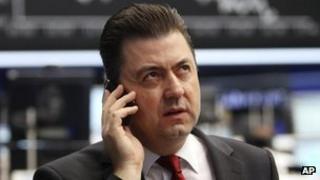 German investor sentiment improved markedly in January, reaching its highest level since last July, a closely-watched survey has suggested.
The ZEW economic sentiment index rose to minus 21.6 points, up from minus 53.8 in December. However, this is well below its historical average of 24.5.
The think tank cited policies to tackle the eurozone debt crisis as reasons for the improvement.
It also highlighted the fresh supply of money from the European Central Bank.
ZEW said the survey suggested that, within six months, German economic activity was likely to "stabilise further instead of deteriorating further".
"The generous supply of liquidity by the ECB and the relatively affordable refinancing terms for Italy and Spain may have supported the improvement of this month's sentiment," said the think tank's president, Wolfgang Franz.
Currency boost
The survey results were far better than analysts had expected.
"The trough of negativity may be behind us," said Carsten Brzeski at ING Global Research.
And he added that Germany may in fact benefit from the debt crisis.
"With more than 60% of all exports going into non-eurozone countries, Germany is among the main beneficiaries of recent euro weakness."
A weak euro makes German exports cheaper for buyers overseas.
"Moreover, the latest downgrades of nine eurozone countries have rather strengthened than weakened Germany's safe haven role, keeping government bond yields at record lows," Mr Brzeski added.
Last Friday, credit ratings agency Standard & Poor's downgraded several eurozone economies, including France, because of the failure of policymakers to take sufficient action to resolve the debt crisis.
On Monday, it also downgraded the EU bailout fund, the European Financial Stability Facility.