Essar shares fall 26% on Indian Supreme court ruling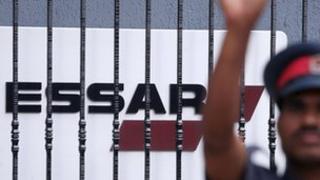 India's Essar Energy saw a quarter of its market value wiped off after the Supreme court said it could not defer tax payments.
Essar's share price fell 26% to 127 pence on Tuesday, an all time low.
The court ruled that Essar Oil, which is majority owned by Essar Energy, will not be able to defer $1.24bn (£808m) in sales tax on refined oil products.
The Supreme Court overturned a lower-court ruling that allowed Essar Oil to defer the payment to Gujurat state.
It originally allowed the tax-break under a programme by the Gujurat government to encourage investment.
But the Supreme Court said Essar had failed to start production while that ruling was applicable and therefore would not be exempt.
Essar Energy, which is listed in London, is aiming to profit from India's growing demand for energy.
The company said it was uncertain when it would have to pay back the sales tax it owes; originally it had been repayable from 2021 onwards.
"We need to clarify how much and when we might need to pay back and how payments might be made," an Essar Energy spokesperson told Reuters news agency.
Essar Energy listed on the London Stock Exchange in 2010, and is owned by the Indian conglomerate Essar group.