China data shows cooling economy, as curbs take effect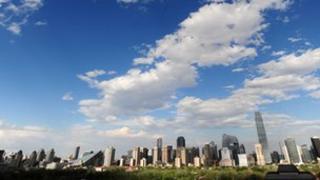 The latest economic data from China have backed up the view that the economy there is cooling.
New home prices in 52 out of 70 Chinese cities fell in December from the previous month, the National Bureau of Statistics said.
Foreign direct investment also fell for the second straight month in December.
Investment into China has surged in recent years with international investors looking to profit from China's booming economy.
Losing steam
The National statistics bureau said home prices rose 1% in Beijing from a year earlier and 1.8% in Shanghai. Both figures are lower than readings for those cities in November.
Chinese property data does not give a national average, however Reuters news agency calculated that home prices rose by 1.4% in December, down from 2.2% in November.
That would be the lowest reading in 2011.
Chinese authorities introduced a host of measures last year to try and prevent speculative bubbles in the property market.
Curbs included bans on buying second homes in some cities and raising the minimum deposit as well as property taxes.
"Our major progress is that speculative-based investment in the property market has been curbed," statistics bureau chief Ma Jiantang said at a news conference in Beijing according to reports.
Overall, property investment increased 27.9% to 6.17tn yuan ($980bn; £640bn) in 2011, slowing from 33.2% growth in 2010, the statistics bureau said.
Downside momentum
Some analysts have warned that the cooling property market is putting downward pressure on the overall economy.
"The property market correction is providing the greatest downside momentum," said Alistair Thornton from IHS Global Insight in Beijing in a note.
Foreign investment in China fell as the global downturn and financial volatility dampened investor appetite for spending.
Overseas investment dipped 12.7% to $12.24bn in December from a year earlier, the Ministry of commerce said.
It fell 9.8% in November, its first decline since 2009.
On 30 December the commerce ministry said the outlook for foreign investment this year was "not optimistic".