Nationwide says UK consumer confidence is at a low ebb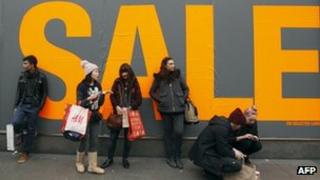 Consumer confidence in the UK was "at a low ebb" in December, according to the Nationwide Building Society.
Its Consumer Confidence Index fell to 38 last month from 40 in November, although it was still above October's record low of 36.
Nationwide blamed the rising cost of living as well as the continuing sovereign debt crisis in the eurozone.
It warned that the economic recovery was unlikely to gain much forward momentum in 2012.
"Right to the end, 2011 was an extremely tough year for UK consumers," said Robert Gardner, Nationwide's chief economist.
"The cost of living continued to rise at more than twice the rate of underlying wage growth, putting further pressure on household budgets and bearing down on sentiment."
But Nationwide predicted that slowing inflation would help to ease the squeeze on household budgets.
Also on Thursday, the consultants Begbies Traynor released their Red Flag Alert Report for the last three months of 2011, which tracks the number of companies in distress.
They said the figures showed the UK economy had hit rock bottom, with a 24% increase in companies experiencing critical levels of financial distress, compared with the same period of 2010.
"Escalating levels of distress indicate we may be getting close to the bottom of the economic cycle, where so called 'zombie' businesses, which are inherently insolvent but have benefited from extensive support measures such as HMRC's 'Time to Pay' scheme, eventually fail," said Ric Traynor, executive chairman at Begbies Traynor.