Car insurance premiums up again, says AA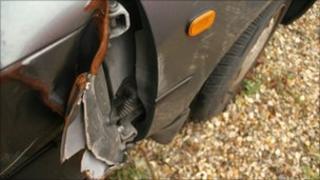 The cost of motor insurance has continued to shoot up, according to the latest figures from the AA.
The average cheapest annual premium rose by 15% in 2011 to £971, with a 5% rise in the past three months alone.
The AA said it was surprised, as premiums had fallen back in the third quarter of last year.
But it said young drivers were being asked to pay the biggest increases with some insurers refusing to insure them at all.
"The difference shows that the cheaper deals are disappearing. Young drivers seem to be the biggest losers with a higher than average increase for them," said Simon Douglas, director of AA Insurance.
"It's clear that young drivers continue to be of concern to insurers, while many no longer offer cover to those under 21."
'Sharp practices'
Last week, MPs on the Transport Committee blamed a huge surge in dubious whiplash claims for the big rise in motor premiums.
They recommended that whiplash claimants should be forced to justify their claims to a much higher standard of proof than at present.
They also demanded that the whole motor insurance industry stop its "sharp practices" - such as selling information about customers' accidents to solicitors and claims management firms, in return for the payment of so-called referral fees.
The MPs said this had been a big factor in stoking up the volume and value of claims, which had fed directly into higher premiums.
Mr Douglas said: "Reform of the way that personal injury claims are managed can't come soon enough.
"It is wrong that injury claims are rising while the number of accidents on Britain's roads is falling," he added.
The Office of Fair Trading launched a formal inquiry into the cost of motor insurance last December.
The cost of the average cheapest motor policy has more than tripled in the past five years.
However, the AA predicted that motor premium inflation would ease in the coming year.
The motoring organisation said that last year's ruling by the European Court of Justice, which outlawed differing insurance quotes for men and women from December 2012, would affect all new policies from that date, with young women likely to see the biggest premium increases.
The AA constructs its index of premiums by averaging the three cheapest quotes for a range of drivers across the UK, by age, gender, driving experience and type of car.