US home building dips in December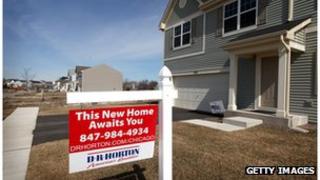 US new home building fell 4.1% in December to an annualised rate of 657,000 compared with November's revised rate of 685,000, figures show.
However, December's rate is up 24.9% on the same period in 2010.
The home starts survey from the US Commerce Department records when work begins on new flats or houses.
The number of building permits in December also fell 0.1% to an annual rate of 679,000, compared with November's figure of 680,000.
"The fall in housing starts in December was driven by a steep decline in the often volatile multi-family sector. Starts of single-family homes actually rose slightly," said Paul Diggle at Capital Economics.
"We continue to think that homebuilding is past the low-water mark and will rise modestly this year."
Job creation
New home building is seen as an important leading indicator because building new homes produces a ripple effect throughout the economy.
For each home that is built, an average of three jobs are created and about $90,000 in taxes are generated according to the National Association of Home Builders.
Building permits are used to gauge future construction because obtaining a permit is one the first steps towards building new homes.
Although the trend has been upward towards the end of 2011, home building in the US has plunged compared with levels seen before the sub-prime mortgage crisis in 2007, when new homes were being built at an annualised rate of over a million homes a year.