Nippon Life eyes Indian fund market with Reliance deal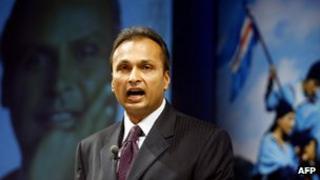 Nippon Life Insurance has agreed to buy a 26% stake in Reliance Capital Asset Management in a bid to tap into the fast-growing Indian market.
The Japanese firm will pay $290m (£187m) for the stake in India's second-largest fund manager.
The deal comes as India's economic expansion has seen substantial growth in the financial services sector.
At the same time, Japanese firms have been facing a stagnating domestic market.
"The Indian mutual fund market has grown rapidly since it was opened to the private sector in 1993," Nippon Life said in a statement.
"It is an attractive market that is expected to achieve robust growth in the long term due to the second-largest population in the world and solid economic growth led by the service sector and domestic consumption."
Big boost?
The deal valued Reliance Capital's asset management business at $1.1bn.
Analysts said the valuation was a big boost for the Anil Ambani-controlled group as it has been looking for investors to buy a stake its other businesses in a bid to help pay for its debt.
Reliance Communications, the group's flagship company, has almost $6bn in debt.
Last year, Reliance capital sold a 26% stake in its life insurance business to Nippon Life for $680m.
The company's chief executive Sam Ghosh said last month that the firm was in talks with potential investors to sell a similar stake in its general insurance business.
Earlier this week, the firm announced that it had reached a deal with Chinese banks to borrow $1.18bn to help pay for some of its debt.