One third of UK adults 'plan to spend less this year'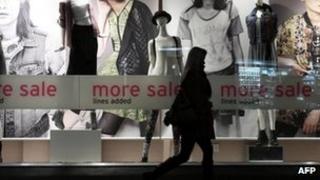 A growing number of people in the UK plan to cut back on their spending this year, a survey has suggested.
One in three adults now plan to spend less in 2012, a rise from October when 19% said they would cut back, the Resolution Foundation think tank said.
About a quarter of those surveyed said they expected their finances to get worse this year.
However, a similar proportion of people currently in work said they still expected a pay rise.
The survey comes just days after official figures showed the UK's unemployment rate had risen to the highest level for 16 years.
On Thursday, the Nationwide Building society said that consumer confidence in the UK had fallen to "a low ebb" in December.
Figures on Friday showed that retail sales rose 0.6% in December after heavy discounting in shops in the run-up to Christmas.
'Real worry'
As well as planning to reduce spending, the Resolution Foundation said that more people were now saving. Those making monthly savings rose to 30% from 22% in October.
One in five said they could not afford a holiday this year.
"Families that are already hard-pressed are preparing for yet another very tough year ahead, with a big rise in the numbers planning to cut back spending as well as trying to save and reduce their debts," said Gavin Kelly, the think tank's chief executive.
"Given this gloomy backdrop it's a real worry that a new round of cuts to tax credits planned for April will further dampen the spending power of low to middle-income families.
"The longer households cut back on spending, the longer it will be before we see real economic recovery."
The survey of 1,993 people was carried out by Ipsos Mori on behalf of the Resolution Foundation.