Arab Spring hits Indian mango producers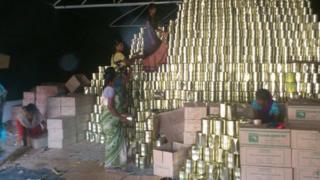 The year ahead seems gloomy for almost half a million people in a small district in the southern part of India, as a result of last year's Arab Spring.
Mango cultivators in the district of Krishnagiri, Tamil Nadu, are worried after last year's political uprising in the Middle East and Northern Africa resulted in the $100m (£63m) mango pulp industry grinding to a halt.
Arab countries - including Yemen, Syria, Libya, Saudi Arabia, Bahrain, Egypt and Kuwait where mango juice, mango milk shakes and mango puddings are popular energy boosters - are among the major importers of mango pulp from the districttraditionally importing some 70% of Krishnagiri's output.
"Our fate depends on the political situation in the Arab world," says Rama Gounder, general secretary of the Tamil Nadu Agriculturalists Association (TNAA).
In recent months, it has become clear that the political turbulence in some of these countries has thrown the lives of India's mango growers out of gear.
Many importers from the Arab world who have placed orders for mango pulp from Krishnagiri have failed to turn up to take delivery of the consignments, according to Mr Gounder.
This has happened even in cases when advances of some 20-25% of costs have been paid, he says.
This is because many importers are concerned that the uncertain political situation will make transport and distribution both less safe and more costly, so they worry about losing money rather than making a profit from such trade.
Loan burdens
Krishnagiri's mango cultivators are spread over an area of more than 100,000 acres (40,000 hectares).
Here, some 175,000 tonnes of mango pulp is produced each year.
Some 250,000 people are employed directly by the growers and cultivators, though it is estimated that the industry supports an additional 400,000 jobs indirectly.
So when the mango cart is rocked, "many thousands of labourers are at the risk of losing their jobs", according to mango pulp manufacturer Ellappan Madhavan, who is also secretary of the Krishnagiri district's mango industry body.
"Under the present circumstances, we are unable to repay the loans," he says, referring to how local pulp manufacturers generally borrow working capital of between $200,000 and $1m on the back of orders placed by merchandised exporters.
The cultivators are paid only for the mangoes they deliver once the exporters' shelves are cleared and they themselves have been paid by the final customers.
Currently, mango stocks are either stuck in warehouses in India or in the ports in various countries in the Arab world, which means no cash is travelling up the supply chain.
'Irreparable loss'
Many farmers have switched to mango cultivation in recent years, inspired by the boom in the export of mango pulp.
Each year, some four million saplings are planted in the Krishnagiri district.
This has helped increase productivity considerably, says Mr Manoharan, who owns a 150-acre mango plantation.
"The mango industry is a tricky one and operates on a cyclic mechanism," he says.
"Any break in the link leads to irreparable loss and affects many thousands of families immediately."
Many mango farmers have started cutting down mango trees in despair and pulp manufacturers say that the hope of a reasonable export in 2012 is all the more grim.
Mango milkshake
The cultivators also feel vulnerable because insurance companies decline to offer insurance for mangoes, which they describe as perishable goods with limited storage value, observes Mr Manoharan.
The crops are susceptible to natural damage from heavy wind, rain or drought, according to the insurers.
The Tamil Nadu Agriculturalists Association feels the Indian government should have come to their rescue, given that the crisis has been caused by forces beyond their control
So far, the only response from the federal government of Tamil Nadu has been an initiative to offer mango milkshakes in state-run schools as part of a social welfare programme. This has helped create a market for some of the mango.
In addition, the agricultural exports agency India-APEDA says is looking at ways to help.