Carphone Warehouse says pre-pay phones down sharply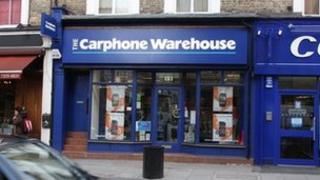 Carphone Warehouse says that UK pre-pay mobile phone market fell by 35-40% in the final three months of the year.
However, the company said that stronger contract sales meant it would meet its full-year profit targets.
Carphone Warehouse said demand for pre-pay mobiles was hit by cuts in the subsidies from networks, a lack of smartphones offered in this category, and a weak consumer environment.
The firm said sales at European stores open for more than a year fell 4.7%.
Carphone Warehouse, which is based in the UK, is Europe's biggest independent mobile phone retailer.
However, it said it had benefited from broadening its range of products on offer, by selling tablet computers and accessories.
It said its non-mobile phone revenue had grown by 15% in the quarter, although this was still less than 10% of the firm's revenue overall.
Virgin Mobile France - Carphone's joint venture with Virgin Group - saw revenues rise 15.3% to 109m euros (£91.2m, $142m).
The company is forecasting growth in full-year earnings of 0-10% for Carphone Warehouse Europe and growth of 20-25% for Virgin Mobile France.
Last year, Carphone Warehouse said it would close all of its 11 Best Buy stores across the UK.
The stores were part of Best Buy Europe, a joint venture between US group Best Buy and Carphone Warehouse.