Financial risks: Danger or opportunity?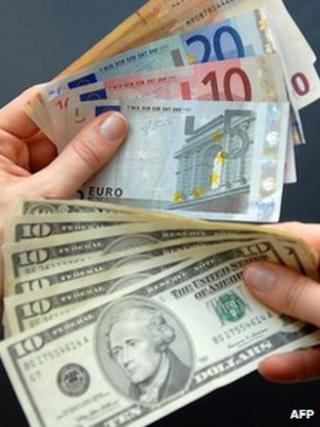 Whenever there is a financial crisis, the instinctive reaction is to take cover until it has eased but, according to some, that is the perfect time to take risks and invest in new enterprises.
"Risk is a good thing - it promotes growth," says former investment banker Heather McGregor.
Harvard professor Kenneth Rogoff is more cautious: "In 2006, even Americans out of work were prepared to take big financial risks," he says. "Since then, people's perception of how much risk there is has exploded.
"Before 2007 they were being told the world was less risky by policymakers, economists and central bankers. The ensuing crisis was a bucket of cold water and they are still shaking."
But Mrs McGregor is adamant that the economy needs entrepreneurs, and wants governments to dismantle a lot of legislation and provide incentives for people to go out and take more risks - investing in ideas or services which could potentially grow and thereby create jobs.
She wants to see a return to growth and that will not be achieved if people follow the Japanese example and "put cash under the mattress and sit on it".
Leadership required
Dr Rogoff believes that for entrepreneurs, any time is the right time to take risks, but to counter the aversion to risk there has to be political leadership.
"Most importantly, we need leadership which is getting the fundamentals right - forward looking, building education, infrastructure - new ideas from our leaders are a great way of generating optimism," he says.
Although he says he is not seeing that calibre of leadership at the moment, he still feels that the entrepreneurial spirit is thriving in some environments.
He reflects how Margaret Thatcher in the UK and Ronald Regan in the US were examples of leaders with ideas.
"I do not agree with everything they did, but they definitely put tremendous energy into their economies by reinvigorating them," he says.
Former banker Gerald Ashley, who now runs a consultancy in risk management, says one of the problems is that a lot of institutions around the world have been discredited.
"Look at the apathy of electorates in general, the fact that people feel disconnected with bureaucracy and a lot of institutions are under some form of strain. People have lost trust," he notes.
Some of those institutions are the credit rating agencies.
Are a few hundred people in those agencies setting the tone and affecting confidence and risk-taking?
"You are either creditworthy or not creditworthy," says Mr Ashley. "It would be very dangerous to blame the credit rating agencies for the results they come up with. But equally, maybe we do give them too much credence."
Cautious consumers
Despite the negative mood emanating from credit agencies, there are still entrepreneurs willing to take a risk.
"In the emerging world, people are doing business as usual and in Silicon Valley in California, it is exploding now," says Dr Rogoff. "So the concern is not the entrepreneurs but the consumers.
"They are very nervous. They borrow to the teeth, they are worried about getting a job, and trying to coax them back is the key to everything else. If consumers are not there, businesses will not invest," he asserts.
Mrs McGregor says there needs to be an injection of optimism in life, otherwise we could talk ourselves into a recession.
But how do we get people to accept a new approach to risk after the constraints of being told it is not a good thing?
Mr Ashley points out that students of history will note in the 1930s there was a big increase in optimism clubs, where people said "We are fed up with being fed up" and wanted to be optimistic.
"The Chinese character for risk is made up of two characters - danger and opportunity. Like everything in life - half full, half empty - do you see risk as a danger or an opportunity?" he asks.
"There are opportunists out there who will be entrepreneurial but the consumer just sees danger," he says.
Dr Rogoff agrees in principle: "Risk is definitely all about entrepreneurship and capitalism while trying to maintain some semblance of equality, and that is a balance we have to strike better."