National Savings cuts rate on Direct Saver account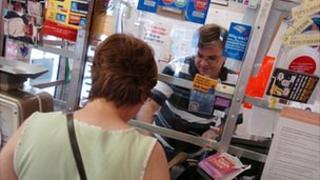 The government savings body, National Savings & Investments (NS&I), has cut the interest rate on its main savings account, the Direct Saver.
From 25 January, the annual interest rate will drop to 1.5% from 1.75%.
NS&I said the move was deliberately designed to make its account less attractive.
The body said that it had a government target to raise £2bn from savers this financial year, but it has already raised £4.8bn.
Jane Platt, the chief executive of NS&I, said it was necessary to stem the excessive inflow of funds from savers, and she expected the end-of-year figure to have fallen back to a surplus of £4.5bn.
"Since November we have seen an increase in customer deposits," she said.
"This has been driven by a relatively small number of savers depositing large amounts of money, particularly into our Direct Saver account.
"We have also seen a decrease in the number of customers withdrawing their money from products across our range," she added.
'Unfair advantage'
NS&I said it thought that instability in global financial markets since last autumn had persuaded some of its customers to see it as a safe haven and put substantially more into their accounts, while also refraining from moving existing money out.
As of March 2011, the Direct Saver had only 19,874 customers but they had saved an average of £85,000 each, amounting to £1.7bn in the accounts.
That has now gone up substantially, though NS&I could not put a precise figure on the sums involved.
The interest rate cut was warmly welcomed by Adrian Coles of the Building Societies Association (BSA).
Since the onset of the banking crisis in 2007, thr BSA it has been complaining that NS&I has had an unfair advantage over building societies in attracting savers' funds.
NS&I has been the destination for more than 10% of all fresh savings in UK deposit accounts, which has hindered the ability of building societies to raise the funds they need to then lend to mortgage borrowers.
"It has been obvious that NS&I has been exceeding its target and would have to reduce its interest rates," said Mr Coles.
"It has unique advantages because it can offer a 100% state-backed guarantee and building societies have been losing funds to NS&I."
Revamped range
Last September, NS&I stopped opening new accounts of its index-linked bond - which gave savers protection against inflation.
The latest version had been on offer for only four months, but the lure of inflation-proofed savings with a government guarantee proved so tempting that 500,000 index-linked bonds were opened in that time.
NS&I has meanwhile been rationalising its portfolio of accounts.
In November, it decided to stop selling its Investment and Easy Access accounts.
The Investment account will be available again from May to new savers, but by post only, while the existing Easy Access accounts will be closed completely in July.
Along with its most well known investment, Premium Bonds, the various accounts are offered so that the government can borrow cheaply from the public.
The main lure is that the government offers NS&I the absolute guarantee that it will never go bust.