Yahoo quarterly profits dip 5% amid growing competition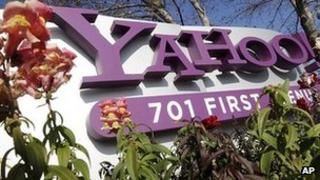 Yahoo's profit fell in the last quarter of 2011 as it continued to struggle to maintain its market share amid growing competition.
It has reported a profit of $296m (£189m) during the period, a 5% drop from a year earlier.
The dip is the latest in a series of disappointing performances that saw its co-founder Jerry Yang resign last week.
Three weeks ago, the company hired former PayPal president Scot Thompson as its new chief executive.
Mr Thompson, who is Yahoo's fourth chief executive in five years, was appointed to in a bid to help turn around the company's fortunes.
He has assured that he will move quickly to address Yahoo's problems. "There is no question we need to do better and we will," he said.
Yahoo's earnings in the three months to the end of December 2011 matched analysts' estimates, but the company missed revenue targets.
Total revenue fell 13% during the quarter, while net revenue was $1.17bn - $20m below analysts' projections.
This is the 13th straight quarter that Yahoo's net revenue has fallen.