Australia car industry seeks revival amid slowing sales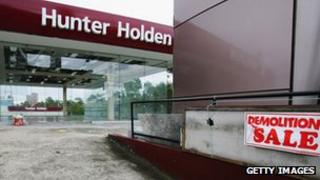 Is Australia's embattled car industry gasping for air on its "deathbed" or about to show typical grit and recover from another punishing year?
The once mighty sector that boasted seven manufacturers during the past seven decades now has just three; Ford, Toyota and General Motors Holden.
The sky-high Australian dollar has made exports more expensive, while imported vehicles now account for more than 80% of domestic sales, a sign seen by some analysts of irreversible decay.
Competition, particularly from Thailand, Brazil China, has also hurt.
"We have seen the industry going into decline with increasingly large amounts of government handouts sustaining the industry before its inevitable collapse," Clive Matthew-Wilson, editor of the car review website dogandlemon.com tells the BBC.
"Australia's car assembly industry loses money on every vehicle it assembles. That harsh economic fact spells absolutely inevitable doom," he adds.
Double whammy?
In 2011 the number of vehicles sold across Australia was down on the previous year by more than 2.5%.
The most popular model at showrooms across the country was the imported Mazda 3, while sales of the Holden Commodore, a sentimental Australian favourite, slipped by 11%.
Against such a gloomy backdrop, GM Holden has been unable to guarantee a long-term future for car assembly in Australia.
Ford has assured that it will keep its Victorian factories open until at least 2016. However, given the downturn in the sector, it is difficult to predict what course the carmaker will take beyond that.
"To survive in the car manufacturing industry these days you need to have either an extremely large domestic market, which Australia doesn't have, or a very large export market, which Australia doesn't have," Mr Matthew-Wilson says.
He explains that it is 40% cheaper to build cars in Thailand than in Australia.
'Withstand the challenges'
The car industry is a symbol of Australia's proud industrial heritage and the debate over its future is both emotive and divisive.
Far from seeing a troubled sector on the edge of ruin, trade unions believe that while wounded by global turmoil, motor manufacturing is robust enough to bounce back strongly.
"Back in the 1960s and 70s they said that we would never be able to withstand the challenges of Japan and we managed our way through that and thrived," says Ian Jones, the federal secretary of the Australian Manufacturing Workers Union's (AMWU) Vehicle Division.
"Good times are on their way back. I have no doubt at all given the resilience this industry has demonstrated over the years and continuing support from various governments that this industry will continue to manufacture vehicles for a very long time," he tells the BBC.
That is certainly good news for those working in the sector.
About 50,000 people are directly employed by the three major automotive companies and in the component sector, while there are another 200,000 jobs in related businesses.
The government spends a reported A$750m ($789m; £506m) subsidising carmakers each year and it continues to promise carmakers financial help for the health of the national economy.
"I'm very determined… as we go through this period of economic change that we emerge with a diversified economy with many sources of strength," Prime Minister Julia Gillard told Ford workers in Melbourne a few days ago.
Unique advantage
Australia is one of only a dozen or so countries that can design, engineer and manufacture a car from scratch.
Tim Harcourt, an economist at the University of New South Wales, believes that the motor trade can prosper without state handouts as it shifts from the mass manufacture of yester-year to the niche research and development industry.
"The big story of the Australian car industry is design and engineering. A lot of the designs you see whether it be police cars in Saudi Arabia or pickup trucks driving through Thailand are basically Australian designed," he explains.
Mr Harcourt believes the key to export success is to target the surging middle class demand for cars in Asia and the Middle East, while providing components to the global supply chain and developing environmental technology for greater fuel efficiencies.
For the AMWU's Ian Jones the survival of the automotive industry is of national importance.
"There is a lot of store being placed in minerals and mining in Australia but sooner or later that will come to an end. Manufacturing underpins our economy and the spin-off benefits in so many ways create new industry," he insists.