Roche to make $5.7bn bid for DNA firm Illumina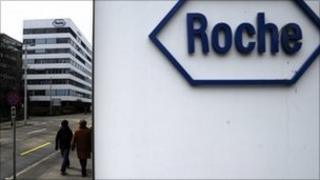 Swiss drugmaker Roche has said it plans to make an offer of $5.7bn (£3.7bn) for DNA research company Illumina.
The offer is equivalent to $44.50 a share. Following the announcement, Illumina shares rose 46% to $55.15
Roche said the deal would help it meet the growing demand for genetic solutions and speed up the use of DNA research in routine medical diagnosis.
The firm said it expected Illumina shareholders to "welcome the opportunity" to sell their shares.
Roche added that it had tried to negotiate a deal but that Illumina had been unwilling to participate in "substantive discussions".
"Roche's all cash offer represents full and fair value for Illumina," said the firm's chief executive Severin Schwan.
"It is our strong preference to enter into a negotiated transaction, and we remain willing to engage in a constructive dialogue to jointly develop an optimal strategy for maximising the value of combined business."
Separately, rival Swiss pharmaceutical company Novartis reported a slump in fourth quarter profits of almost a half.
Net income between October and December was $1.2bn, a drop of 47% on the $2.3bn the firm made a year earlier.
The company attributed the drop to exceptional costs, including production problems and the ending of some clinical trials, and the strength of the Swiss franc and US dollar.