SAP profits almost triple to 1.2bn euros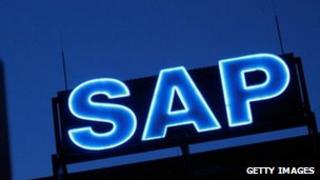 German business software giant SAP has reported a big jump in quarterly profits, ending off what it called its "best year" in its 40-year history.
Net profit for the final three months of 2011 was 1.2bn euros ($1.6bn; £1bn), almost triple the $434m the firm made a year earlier. Total revenue for the period rose 11% to $4.5bn.
Profits for the full year almost doubled to 3.4bn euros.
It added that it expected to continue performing well in 2012.
"SAP performed exceptionally well in 2011, clearly exceeding its guidance for revenue and profit," said SAP's chief financial officer Werner Brandt.
"This record performance was driven by strong top line results with double-digit software revenue growth in all regions, resulting in year-over-year total revenue growth of 1.7bn euros and a record cash flow."