Boeing profits from surge in commercial plane sales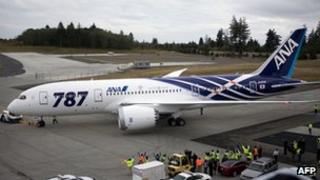 Boeing has reported a sharp rise in profits, thanks in part to stronger sales of commercial planes.
Net income for the final three months of last year was $1.4bn (£900m), up 20% on a year earlier. For the full year, profits were up 21% at $4bn.
For the quarter, commercial plane revenue rose 31% to $10.7bn. Those at the defence arm rose 4% to $8.5bn.
Despite these strong gains, the results failed to meet expectations and Boeing shares fell almost 2% in early trading.
'Renewed momentum'
Total group revenue for 2011 was $68.7bn. Boeing said it expected revenue to rise this year, to between $78bn and $80bn.
"Strong fourth-quarter operating performance, record revenue and backlog, and expanded earnings and cashflow capped a year of substantial progress for Boeing in 2011," said chief executive Jim McNerney.
"We enter 2012 with renewed momentum... even as we face constrained US defence spending and pension headwinds."
Earlier, Norwegian Air Shuttle announced it had ordered 122 Boeing 737 planes. The low cost airline also ordered 100 planes from European rival Airbus.
The two planemakers are seeing orders pick up as demand for air travel slowly recovers from the 2008 global recession.