Geithner: Obama won't ask me to stay on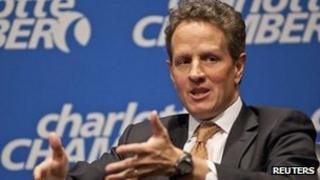 Timothy Geithner has said he does not expect to serve a second term as US treasury secretary if President Barack Obama is re-elected.
"He's not going to ask me to stay on, I'm pretty confident," Mr Geithner said in an interview with Bloomberg TV on Wednesday.
He took up his position in January 2009 when Mr Obama took office.
Mr Geithner said he was confident Mr Obama would win November's presidential election.
"But I'm also confident he's going to have the privilege of having another Secretary of the Treasury," he added.
It would not be unusual if he were to leave after one term.
Former US Presidents Bill Clinton and George W. Bush both had three treasury secretaries during their two terms.
Mr Geithner had been expected to step down in August after Congress reached a deal to raise the US debt ceiling.
But he decided to stay on after Mr Obama asked him to reconsider.