US durable goods orders rise 3% in December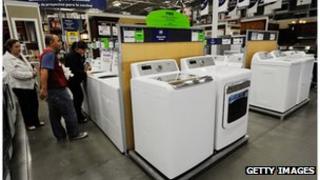 Orders for durable goods, items which last over 3 years, in the US rose 3% in December 2011, according to official figures from the Commerce Department.
Including transportation equipment, orders rose by $6.2bn (£3.9bn) to $214.5bn.
It is the fifth rise in the past six months and follows a 4.3% rise in November.
Strong orders for aircraft boosted the figures but even without transport goods, new orders still rose 2.1%
Analyst reaction has been positive.
"The latest increase could be in part attributed to aircraft orders, but even after stripping transportation products out the underlying trend has accelerated." said Chris Williamson, chief economist at Markit Economics.
The Dow Jones Industrial Average opened an hour after the figures were released, rising 0.4%.
The index remained buoyant, despite weaker-than-expected US residential home sales, which came later in the day.
The US Commerce Department announced that seasonally adjusted sales of new single-family houses in December slipped to an annual pace of 307,000, down 2.2% from the revised November 2011 figure of 314,000.
"The fledgling recovery in housing market activity has yet to encompass the new homes market, where sales fell in December, reversing all of the previous month's gains," said Paul Diggle, property economist at Capital Economics.
"New home sales are unlikely to rise significantly from their current ultra-low level while they have to compete with foreclosed homes and short sales where buyers can achieve deep discounts."