BP must cover some Transocean liabilities for oil spill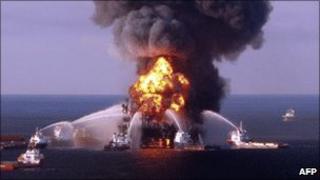 BP must cover some but not all of oil rig owner Transocean's liabilities for the 2010 oil spill in the Gulf of Mexico, a US judge has ruled.
US District Judge Carl Barbier said that Transocean was shielded by its contract with BP from having to pay many pollution claims.
But Transocean must cover its own legal fees and is not exempt from paying punitive damages and civil penalties.
A trial on damages from the oil spill will begin next month.
The trial, which will also involve oil services firm Halliburton who made the cement cap on the well which blew, is expected to apportion blame and quantify damages arising from the incident.
'Cannot avoid responsibility'
BP said that the ruling made it clear that contractors would be held accountable for their actions.
"Under the decision Transocean is, at a minimum, financially responsible for any punitive damages, fines and penalties flowing from its own conduct," the company said in a statement.
"As we have said from the beginning, Transocean cannot avoid its responsibility for this accident."
In his decision Judge Barbier said: "The court defers ruling on BP's arguments that Transocean breached the drilling contract or committed an act that materially increased BP's risk or prejudiced its rights."
He added that the court "does not express an opinion as to whether Transocean will be held strictly liable, negligent, or grossly negligent".
BP has spent $14bn (£9bn) so far in its spill response and cleanup operation and has set aside a further $20bn for damages claims.
It has been locked in legal battles with both Transocean and Halliburton over who should pay for costs and damages arising from the spill.
The explosion at the Deepwater Horizon rig on 20 April 2010 killed 11 people and caused the worst offshore oil spill in US history.