Philippines growth rate slows amid global uncertainties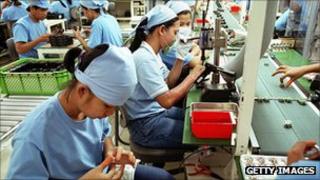 The Philippines economy slowed in 2011 as global economic uncertainties hurt demand and dented the country's export sector.
Growth was "a relatively feeble" 3.7% during the year, down from 7.6% in 2010, the National Statistical Coordination Board (NSCB) said.
Exports from the Philippines, one of the main drivers of growth, have fallen for seven consecutive months.
The government had set a growth target of between 4.5% to 5.5% for 2011.
The NSCB said growth was also hurt by "obstinate exogenous economic woes, the government underspending on infrastructure in the second and third quarters and the sustained decline in fishing."
Policy easing?
The latest data showed that growth for the October to December quarter also stood at 3.7%, compared with 6.1% during the same period a year earlier.
When compared with the previous quarter, the economy grew by 0.9%.
Analysts said the numbers may put pressure on Philippines central bank to ease its monetary policy in a bid to boost growth.
"This is clearly below trend and way below the potential growth that the Philippines can deliver," said Jun Neri of Bank of the Philippine Islands in Manila.
"It highlights the necessity of more aggressive spending and easier monetary policy."
Mr Neri added since the eurozone debt crisis continued to remain a threat, the central bank may even cut its interest rate "earlier than expected."