House prices fell 1.3% in England and Wales in 2011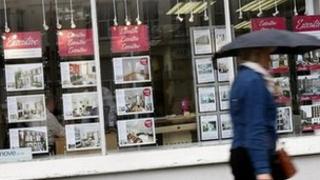 House prices in England and Wales fell by 1.3% last year, to an average of £160,000, the Land Registry said.
The only region where prices rose was London, where the average cost of a home went up by 2.8% to £345,000.
Prices fell fastest in the North East of England where they dropped by 7.1%, bringing the regional average down to £99,000.
House prices have been depressed by a combination of rising unemployment and continued mortgage rationing.
The number of completed sales in England and Wales also fell last year, the Land Registry said.
Its figures tell a similar story to those of other house price surveys.
The Halifax, part of Lloyds banking group, also said prices across the UK fell by 1.3% in 2011.
The Nationwide said prices had risen last year, but by just 1%.
Up and down
Within the Land Registry's average fall of 1.3% there was a wide range of price movements last year.
The biggest annual drop was in Hartlepool, at 17.5%, with other double-digit falls recorded in Merthyr Tydfill (down 10%), Middlesbrough (down 10%), Liverpool (down 10%) and Oldham (down 11%).
The biggest rise in prices was recorded in Westminster (up 9%) and Kensington and Chelsea (up 7%).
Estate agents have reported that prices in central London have been boosted by foreign buyers who have moved their wealth out of countries such as Greece, Italy and Spain in search of a safer home, as they try to side-step the continuing crisis in the eurozone.
But not everywhere in London saw house prices rise last year.
In Newham they dropped by 3% and there were smaller falls in eight other London boroughs.
"The most expensive property sold in England and Wales in 2011 was £19.25m for a detached house in Hampstead, north London," the Land Registry said.
"The cheapest property sold in England and Wales in 2011 was £16,000 for a terraced house in Middlesbrough."