House prices record winter freeze, says Nationwide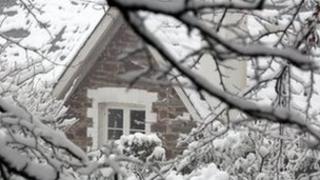 House prices started the new year with a slight decline - falling by 0.2% in January compared with the previous month, according to the Nationwide.
The building society, the first to report on January's prices, valued the average home at £162,228.
The annual rate of house price growth slowed to 0.6% in January, from 1% in December, it added.
It repeated its outlook that prices would move sideways or modestly lower in the coming months.
"Given the challenging conditions prevailing in late 2011, with the UK economy contracting in the final three months of the year, it is not surprising that house price growth softened at the start of 2012," said Robert Gardner, Nationwide's chief economist.
"The economy is not expected to gather much momentum until the second half of 2012 at the earliest, which suggests that labour market conditions and buyer sentiment may be slow to improve."
Housing demand has been dampened by the difficulties that buyers face in getting a mortgage. However, the latest figures from financial information service Moneyfacts show that mortgage availability has risen for those unable to raise a large deposit.
It said that at the start of February, there were 343 mortgage products available at a 90% loan-to-value, up from 280 a month earlier.
The interactive content on this page requires JavaScript
London demand
The three-month on three-month measure saw values rise by 0.3% in January, the same as December, the Nationwide data showed.
The figures come shortly after the Land Registry said that house prices in England and Wales fell by 1.3% last year, to an average of £160,000.
The only region where prices rose was London, up by 2.8% to an average price of £345,000. Prices fell fastest in the north-east of England where they dropped by 7.1%, bringing the regional average down to £99,000 for a home.
More detail on the state of the London market came in an annual trading update from the estate agent franchise chain, Winkworth.
It said that prices for "prime" London properties had continued to rise throughout 2011, with family houses in strong demand.
But its statement added that prices for flats and houses in less prime areas had been "broadly stable".
Winkworth said there had been signs of more properties becoming available in early 2012 everywhere in London except central London, where instructions remained very low.
"We expect to see prices in central London continuing to move upwards as buyers from the Far East and the eurozone, looking to London as a safe haven for investment, fuel demand," the firm said.