Exxon profits rise on oil prices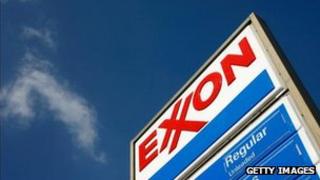 The the world's largest oil company, Exxon Mobil, has seen its profits rise due to the higher oil price, despite producing less oil.
The oil giant said net profits for the three months to the end of December were up 2% on the same period last year to $9.4bn (£6.1bn).
The company said the oil it sold during the period was worth 27% more than the same time last year.
However the global oil producer said production fell by 9%.
Exxon shares were down 1.8% shortly after open on the New York Stock Exchange.
Investment
Production has been falling as older fields start to run short of oil. Some of Exxon's overseas contracts also limit the amount of oil it can produce.
Exxon said it had spent $36.8bn last year hunting for new sources of oil and gas, but these can take years to come on stream.
The company also saw a big drop in revenue from its refining operation.