Chinese miner Zijin sees profit jump on high gold price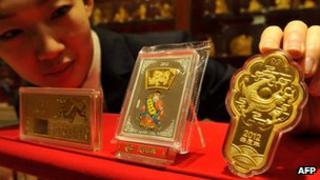 Chinese mining group Zijin has said it expects a 20% jump in profits for 2011 boosted by higher gold prices during the year.
In its earnings estimate, Zijin forecast a net profit of 5.8bn yuan ($920m; £582m) for the year, up from 4.8bn yuan in 2010.
Gold prices surged in 2011, rising by as much as 30% to hit an all time high in August, before easing at the end of the year.
Zijin is China's largest gold producer.
"The increase in operating results for 2011 compared with last year was mainly attributable to the increase in the sales price of the major products such as gold etc," the company said in a statement.