BT profits up on broadband and cost cutting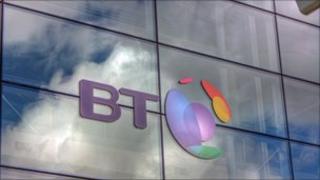 Telecoms group BT has reported a rise in profits, thanks to cost-cutting and an increase in broadband users.
Pre-tax profits for the three months to the end of December were £652m, 48% higher than a year earlier. Revenue fell 5% to £4.77bn.
Excluding one-off items, profits increased by 18%.
The company said it had expanded the availability of its fibre-optic broadband to seven million homes and signed up 95,000 customers to it.
"We have delivered another quarter of growth in profits and cash flow despite the economic head-winds," said chief executive Ian Livingston.
"In the UK, our fibre roll-out has accelerated bringing super-fast broadband within reach of over seven million homes and businesses and we remain the number one broadband retailer with over six million customers," he added.
The company said labour costs fell by 3% while payments to telecommunications operators fell 15% due to lower call volumes.
Pensions
However the firm saw a significant increase in its pension deficit, which rose to £4.1bn.
BT said the rise reflected low returns on corporate bonds, "reflecting the impact of quantitative easing and recent inflation being higher than the long-term assumptions".
The market value of the scheme's assets also fell during the quarter.