Personal insolvencies 'down 11%' in 2011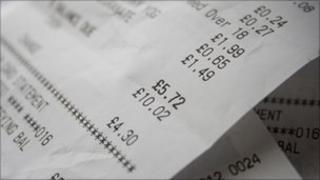 Fewer people were declared insolvent in 2011 in England and Wales than during the previous year, but the number of companies going bust increased.
There were 119,850 people declared insolvent over the year, the Insolvency Service said, which was down 11.3% on the record high of 2010.
In the final three months of the year, there was a 5.6% fall compared with the same period a year earlier.
The number of firms going bust in 2011 increased by 1.3% compared with 2010.
Debt choices
Personal insolvencies are still running at significantly higher levels than before the credit crunch. One in 366 people became insolvent in 2011, compared with a 25-year average of one in every 1,600.
Yet, the figures show a clear shift in the way people chose to deal with their financial troubles over the year.
There was a 29% fall in the number of people who were declared bankrupt, considered to be the most traditional form of insolvency, but one that puts assets such as a home at risk.
The total number of bankruptcies stood at 41,845 in 2011. This sharp drop meant the annual total was overtaken for the first time by Individual Voluntary Arrangements (IVAs).
Under this arrangement, an official deal is done between the individual and creditors on how to pay back debts. There were 49,056 IVAs in 2011, a fall of 3.2% on the previous year.
There was also a notable rise of 15% in Debt Relief Orders (DROs) in 2011 compared with 2010. There were 28,949 DROs - a relatively new style of insolvency for lower levels of debt.
However, Nick O'Reilly, an insolvency practitioner at chartered accountants HW Fisher, warned that these people could still face escalating problems.
"To qualify for a DRO, a person must have relatively small debts of less than £15,000. But there is every chance that those struggling with DROs now could slip into insolvency proper," he said.
Official figures from Scotland were released in January, which showed a 2% rise in personal insolvencies in the third quarter of the year compared with the same period a year earlier.
Accountant in Bankruptcy (AiB) reported 4,664 personal insolvencies in the third quarter of 2011-12 in Scotland. This was 13% lower than the previous quarter.
Business worries
The number of businesses going bust in England and Wales fell slightly in 2010 as companies recovered from the recession, but crept up again in 2011.
There were 4,972 receiverships, administrations or company voluntary arrangements last year, up 1.3% on the previous year.
The number of firms that were liquidated - the end point of the insolvency process - was up 5.1% on 2010, to 16,871.
"The increase in corporate insolvencies is unsurprising given the challenging economic environment that businesses are operating in," said Frances Coulson, president of R3, the trade body for insolvency practitioners.
"We have known for a while that many businesses are surviving but not thriving, operating as 'zombies' and eventually some would have to fail.
"What is still clear however is that insolvency numbers are historically low compared to previous recessions and we have not seen volume of business failures that one would expect. This is certainly the calm before the storm and in fact if the economy is to recover, we must see some businesses fail, to allow viable ones to thrive."
Who is affected?
Some commentators have suggested that there has been a rise in the number of professionals facing insolvency.
There were 28,973 personal insolvencies in England and Wales in the final three months of the year.
Those facing bankruptcy include television presenter Miquita Oliver. The 27-year-old from London rose to fame presenting Channel 4's Saturday morning music show, Popworld.
She failed to pay a tax bill of more than £170,000, according to accountants Baker Tilly.
There is a tendency for people to put off applying for help with debts until after Christmas and new year celebrations, so some debt experts predicted a rise in insolvencies in the first months of 2012.
"We have seen a noticeable increase in professionals filing for bankruptcy and we can see this trend continuing," said Louise Brittain, partner in Deloitte.
She predicted that the number of individuals entering insolvency in 2012 would rise above 120,000.
Credit reference agency Experian said a group including mostly married or middle aged people, bringing up children in family houses, had seen their share of insolvencies rise the most in 2011.
"Redundancy and relationship breakdown are typically the main reasons for why people experience serious financial difficulties," said Simon Waller, of Experian.